August 23, 2011
Tanzanite Under Water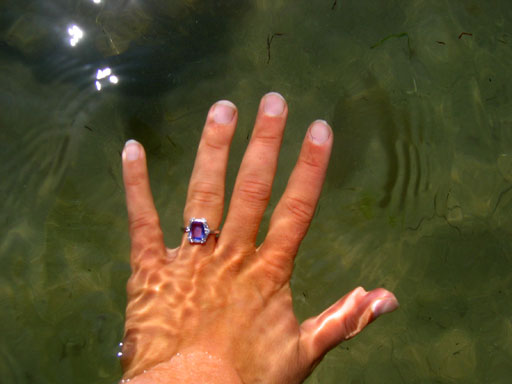 I love jewelry... Tanzanite is my latest pet obsession.
I replaced a generic five-solitaire diamond ring, sort of a wedding band, with this new bluish-purple marvel of a gem on a 14kt white gold ring. In the center of the ring is a gorgeous cushion-cut tanzanite stone. Surrounding the tanzanite stone are six round brilliant-cut diamonds and six straight baguette-cut diamonds. The tanzanite stone is sparkly-transparent purple. Beautiful. I love the way the bluish purple gem is surrounded by diamonds in this piece of jewelry, the setting forms sort of a picture frame for the tanzanite stone.
It makes me happy. Money well spent.
Tanzanite
From Wikipedia, the free encyclopedia
Tanzanite is the blue/purple variety of the mineral zoisite which was discovered in the Meralani (Merelani) Hills of Northern Tanzania in 1967, near the city of Arusha. It is used as a gemstone. Tanzanite is noted for its remarkably strong trichroism, appearing alternately sapphire blue, violet, and burgundy depending on crystal orientation.
Tanzanite in its rough state is usually a reddish brown color. It requires artificial heat treatment to 600 °C in a gemological oven to bring out the blue violet of the stone. Tanzanite is a rare gem. It is found mostly in the foothills of Mount Kilimanjaro. The mineral is named after Tanzania, the country where it was discovered.
rita